The annual China Optical Expo (CIOE) came on schedule
CIOE, founded in 1999, has successfully held 20 consecutive sessions and developed into the world's largest, influential and authoritative comprehensive exhibition of optoelectronic industry. As a professional exhibition covering the whole industry chain in the field of optoelectronics, CIOE China Optical Expo has become the preferred platform for many enterprises to expand their markets and promote their brands.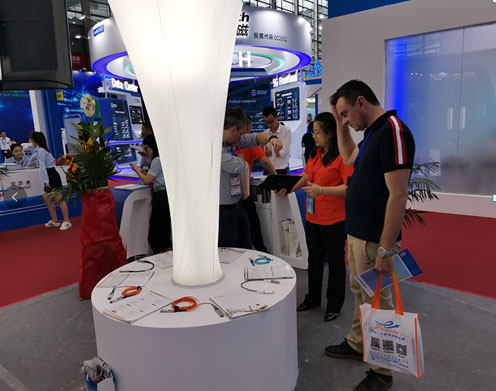 CIOE 2019, Trixon led by Zhao Jian'an, general manager of the company: R&D, procurement, sales, marketing team of 12 exhibitors, which is the largest team in these years. It reflects the good momentum of the company's continuous development and growth.
Access network, 5G network and data center are three important markets of optical communication industry. Especially for optical module enterprises, large-scale deployment of 5G network has become the main point.
Our company's participation in this exhibition focuses on the introduction of: 40G QSFP+, 100G CFP, 100G QSFP28, 40G/100G AOC/DAC, data center and telecommunications transmission of the full range of solution optical modules; and 25G CWDM, 25G DWMD, 25G LR, 25G BIDI, and other 5G forward solution optical modules.
At the exhibition, Trixon communicated details for new product selection, product delivery etc with Huawei, ZTE, Ruijie, Resconda, Maip and customers from Korea, Japan, India and North America.Trixon has been unanimously recognized by customers for their innovative ability, delivery ability, rapid response, after-sales support and other capabilities.
Trixon not only reaped more customers, but also sought more low-cost, low-power, high-power budget solutions.
The coming 2020 will be the first year of 5G business and the year of opportunities and challenges for Trixon. We insist on independent innovation, customer-centered, customer satisfaction-oriented, market demand-oriented, quality-based, adhere to the company concept of "high quality, low cost, quick response, emphasis on details and strong improvement", Trixon will surely ride the wind and break the waves and move forward.
---
Post time: Sep-29-2019